In this article, I'm going to show you action RPG hack n slash games like Diablo. Diablo series has been a favorite of most gamers in the world, developed by Blizzard North. There are three very popular games in this series (Diablo 1, 2, and 3). The last game Diablo III: Rise of the Necromancer released in mid-2017. And now most of the fans are waiting for Diablo 4. It's a combination of flashy skills and slaying hordes of demons and compelling loots. And, I really loved playing 4 player co-op mode with my friends. Let's dive right into Diablo type games: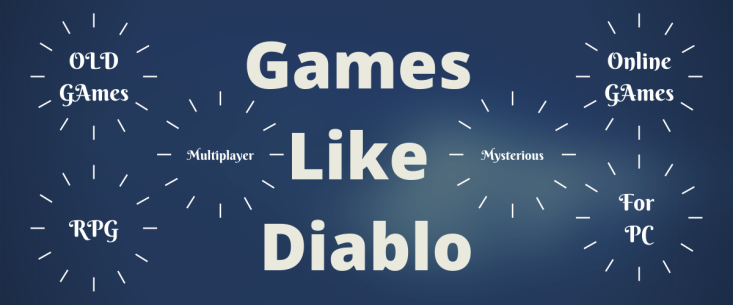 ---
What Are Games Like Diablo Called?
---
1) Titan Quest
Titan Quest is an addictive action RPG Diablo 3 like game, and you will start loving its traditional elements and mythological representation of Ancient Egypt, Greece, and Mesopotamia. I love the epic storytelling about the earthly hero with gods and titans. And also instead of typical fantasy, this game creates prejudices of our ancestors.
From the gaming point of view, Titan Quest perfectly matches Diablo. Hordes of monsters, frighteningly powerful bosses, an abyss of orphaned equipment that does not go into inventory, fight in person with mythical creatures – that's all we love. So, I must say this is one of the best alternatives to Diablo.

Website
---
2) Grim Dawn
One of the most popular Old Games Like Diablo on the list, constantly updated and improved by its creators (Crate Entertainment). It is an open-world dark fantasy game with very interesting storytelling with beautiful graphics and effects. Similar to Diablo, Grim Dawn has a large selection of weapons, armors, and accessories, many different enemies, including bosses and champions. Another thing I love about this game is it allows combining any two of the classes into one hybrid.

Website
---
3) Path of Exile
This is a very similar free game to the Diablo series in terms of surrounding and gameplay quality. From the beginning of the game, you will have to face black magics, ancient dark cities, and living corpses.
The game offers you to select a character with a deeply developed pumping system. Fighting skills comes with unique stones that can be collected by knocking out opponents or buying from merchants. It has very nice graphics and it's a free game.

Website
---
4) Warhammer 40,000: Inquisitor – Martyr
Martyr game (previous original), wasn't a success story according to the Metacritic site. The game has a user score of 6.6, but this was probably enough to be a profitable game and under development.  Warhammer is a standalone expansion, and you don't have to have a previous part to play it. Still, if you have the game, your old character will be transferred from the Martyr to the Prophecy.
Website
---
5) Book of Demons
Building elements in this game look like a board game version of Diablo. You can choose one of three classes. Before you move into the combats, you will need equipment spells, abilities, gears, and consumables, and all of them are tied into the card system, and you will need to pick and choose what will fill out your deck.

Website
---
6) The Incredible Adventures of Van Helsing (1, 2 & 3)
Abraham Van Helsing is a famous evil hunter, and I'm pretty sure most of you may have watched the movies. The game's surroundings are appropriate: dark, covered with fog, mountain ranges, and dark forest areas of fictional Borgovia, where Helsing will have to fight packs of various creatures.
There are three classes called mage, warrior, and shooter, plenty of different types of equipment, and also various tasks that will give you an incredible RPG gaming feeling. If you have completed part one, you must try parts two and three with more incredible adventures, more enemies, items, quests, and many more. As the basic concepts of the game remained unchanged, these also can be recommended for Similar Games Like Diablo on Steam.

Website
---
7) Victor Vran
Victor Vran is a perfect example,e for the words "demon hunter". The Haemimont Games develop this, and it is most similar to Diablo 3. Victor Vran does not have the usual system of character classes. And there is a huge selection of weapons: divided into seven types, and armor, which determines the style of the game, giving the hero a set of unique attacks. The gameplay of Victor Vran is highly dynamic: the hero can dodge enemy attacks, quickly move around locations, and even jump.

Website
---
8) Torchlight Frontiers 2020 (renamed to Torchlight III)
It is not a simple hack n' slash RPG like Torchlight 1 and 2. Still, instead of a single-player or co-op experience, Torchlight Frontiers is a persistent shared world. It's a classic fantasyland that is powered by magic. This game offers brave adventures. Their mission is to protect the village that has become this villain's target. It might be a total hit as a way to lure the younger generation to our dark action RPG side.

Website
---
9) Warhammer: Chaosbane
A fantasy world where Angles and Demons wage eternal war. Well. It could not get more Diablo'ish than that. You have to choose between four playable characters with unique skills and fighting styles and fight for humanity.
Website
---
10) Sacred 2 Gold
Another worthy replacement for Diablo and you will feel it as soon as you start playing this. It was originally released for PS3 Xbox 360 and Windows back in 2008. However, the Gold Edition came out sometime in 2012. Actually, the gold edition is really good compared to the first release. It has unique heroes (even better than Diablo 2) combinations of skills and spells and even a horse!
Website
---
11) Magicka 2
This is one of the Diablo style games which is using magic. It's a really interesting and adventurous game. And the animation is so realistic. Besides, you can play this game on any Operating system such as Mac, Microsoft Windows, and PlayStation 4.
Website
---
12) Darksiders Genesis
Darksiders Genesis is an action RPG built around exceptional combat and exciting challenges set within the mythological Norse world. When checking the music and saw the dark setting of the game is impressive. It looks like this pixel art game is genuinely an art. The game is dark and gloomy. When games like colorful Fortnite dictate the fashion of the other diablo 3 type games, everyone tries to be as bright as possible. It's too early to discuss the Pros and Cons of this game.
Website
---
13) Hades – Is Hades Similar to Diablo?
Hades is one of the famous Online Games Similar to Diablo which is developed by Supergiant Games. The game is in early access, and by now, it seems that more than half of the game is in place. The leveling experience is great, but Hades is a bit different from other early access games. If you are tired of Grim Dawn, Path of Exile, Diablo 3 similar games, then this will be your favorite. 
Why Is Hades So Addictive?
Website
---
14) Wolcen: Lords of Mayhem
Wolcen is a good-looking Mysterious game similar to diablo. The game's early access started in 2016, and it's still in there. It is an indie co-op survival game that tells the story of the Wolcen who can teleport to other mysterious lands, each of which differs in its climate and elements. This game is about exploring a randomly generated world and not available yet in any form.
Website
---
15) Last Epoch
Last Epoch is an RPG-type action game by Eleventh Hour Games. It was produced for PC and the best Diablo Alternative for PC. Moreover, its creation was possible thanks to a successful crowdfunding campaign on kick starter. The game is scheduled to release this year, but early access is already available. 
Website
---
What Are Ps4 Games Like Diablo But With Guns?
---
Victor Vrann
Diablo
Baldur's Gate
Warframe
---
What Are Games Like Diablo On PC?
---
Path of Exile
World of Warcraft
Heroes of the Storm
Warcraft III: Reforged
---
Summary
Hope you like the list of the best diablo like games and I love to hear your thoughts. There are diablo like games for android, diablo like MMOs, games like diablo 3 Xbox one and so many free games like diablo 3, 2, and 1. Each game is different and unique. So, go through the whole article and feel free to leave your thoughts and similar games to Diablo that you have played, in the comment section. 
---