In this article, I'm going to show you the best similar sites to Airbnb. Airbnb is one of the most popular websites for booking hotels and hostels. According to Forbes, it hots over 7 million listings. You can book any lodge or hotels in almost every city in the world and it has a high occupancy rate (over 65%) in popular cities. Actually, due to its popularity, Airbnb hotels have started increasing their rates. Also, in the peak season, almost all the places are full. 
Let's dive right in,
---
1) Vrbo or Vacation rentals by owner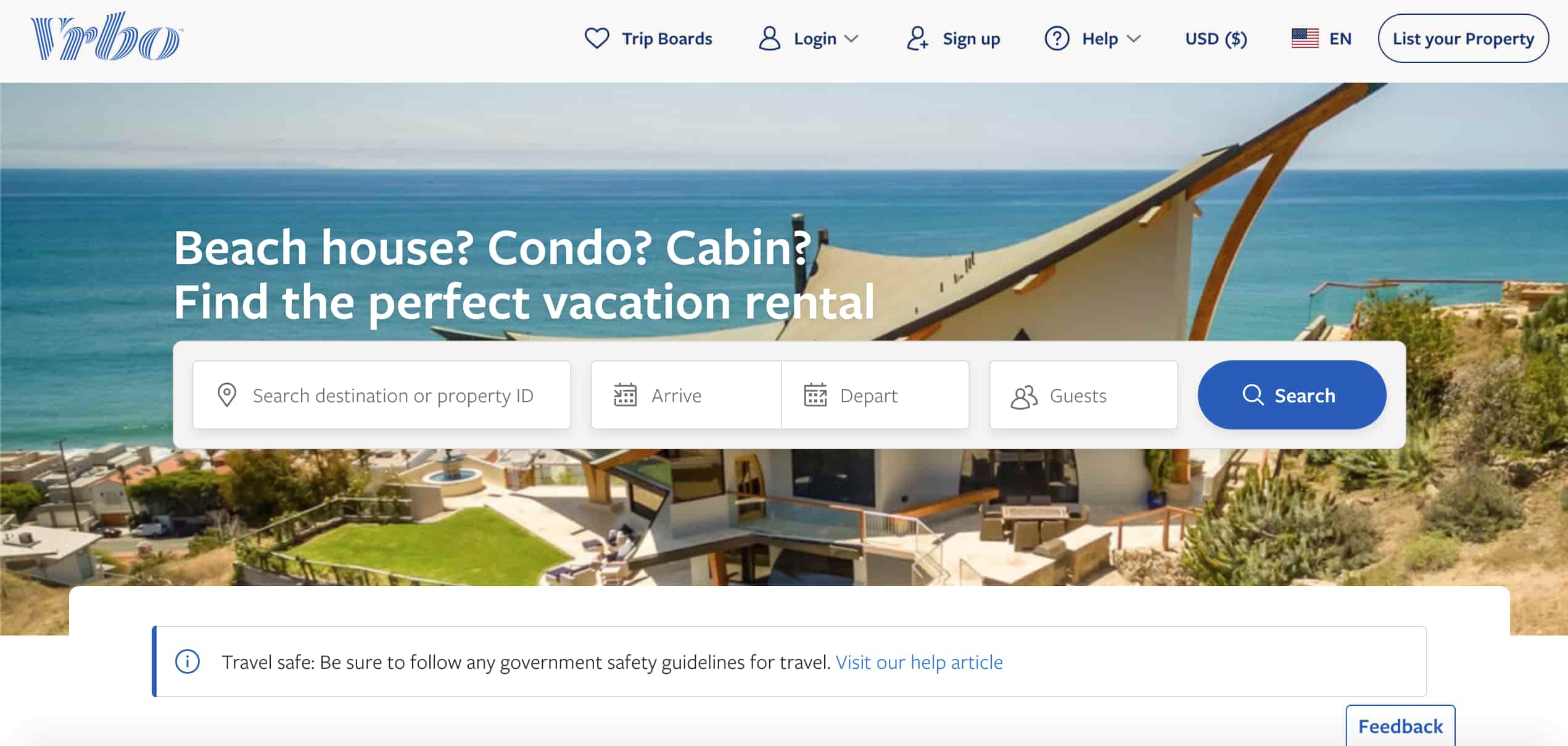 This app has topped our list because after Airbnb by. We found this most reliable. With more than a million properties listed on their app, you will get many options at a good price. They have a little bit different version than Airbnb as they only rent vacation houses. So, you get a personal space, not a hosted one. If you are a holder and want to list a property, then you have got two options, either pay an annual fee or pay fee per booking. There is a free way to list properties too.
---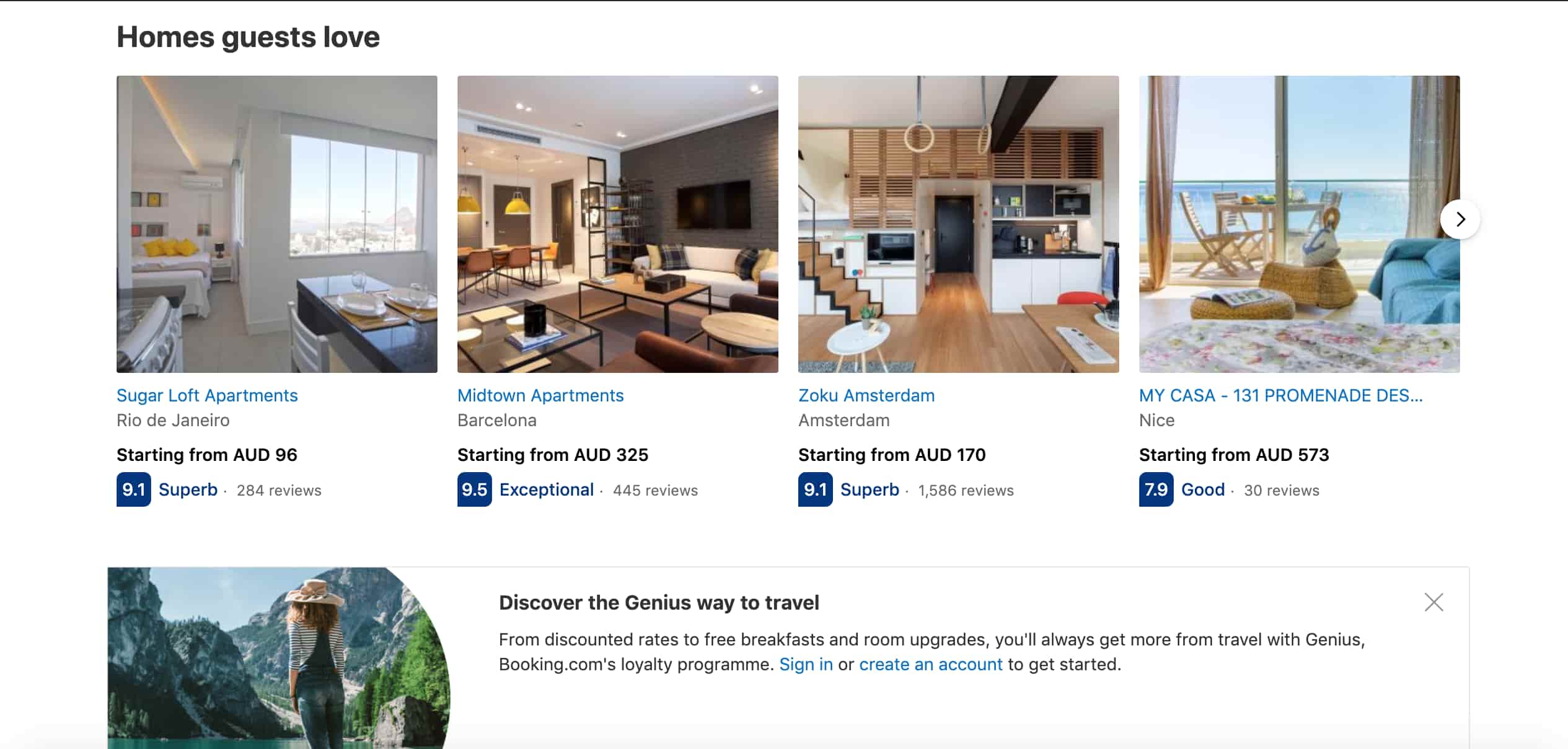 This is another popular site like Airbnb. You must be familiar with this name whenever we need the best deals on hotels around the world. we log into booking.com. Still, many of you didn't know that you can even rent apartments on this site. It has an easy to use interface. Property holders can list their properties without any payment, and they only have to pay when they get a booking. Also, your first five booking fee will not be free.
---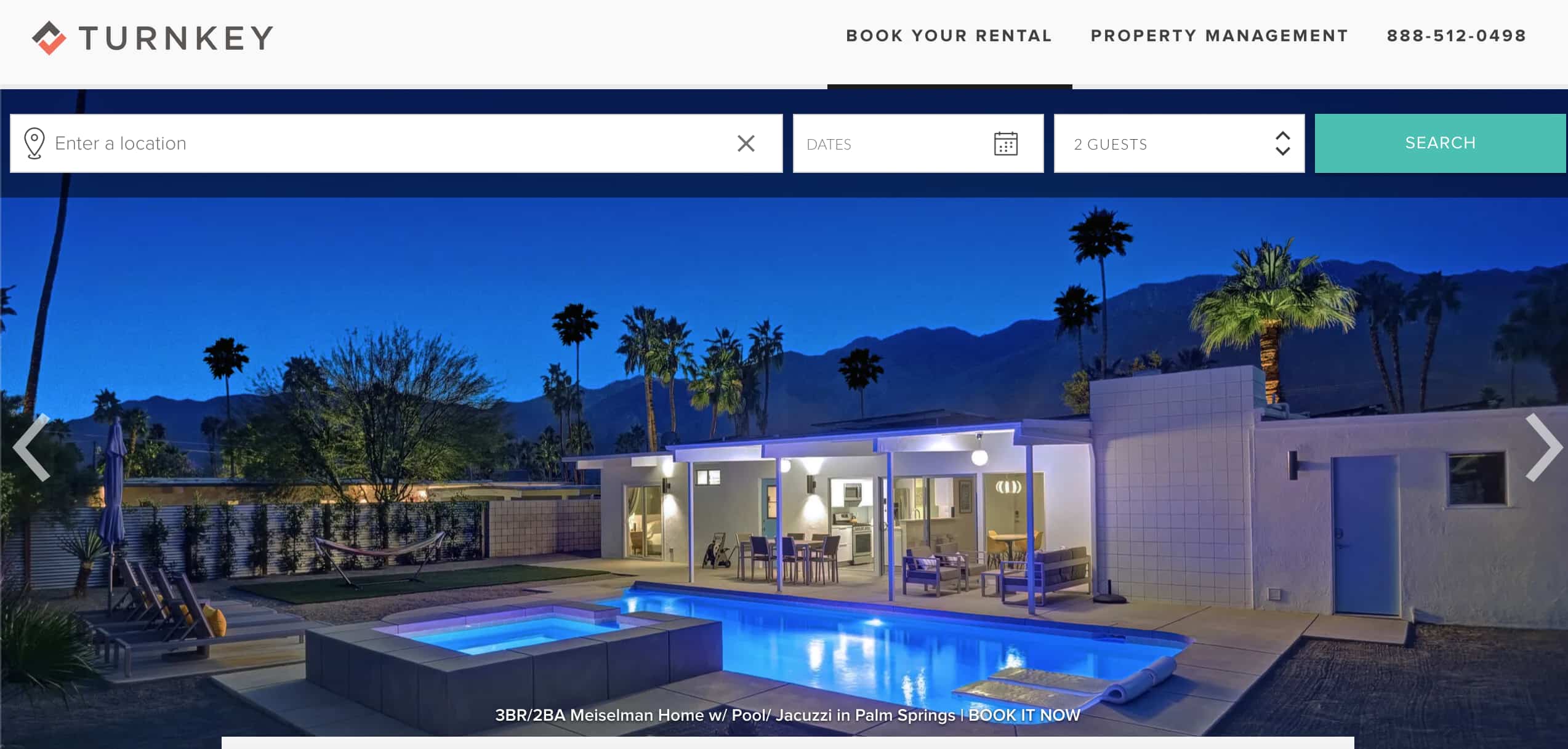 It is a different rental platform like Airbnb where they are selling pre-made properties, and the business owners can buy and make rentals for tourists or locals. This site is also a great platform where travellers can find their apartment to enjoy vacation privately. They are offering exciting packages to rent and have a happy travel experience. Are they legit? Yes, this is a legit company everyone can assure their policies and funds refund of the booking has cancelled or for any errors.
The Airbnb highly recommends them as an alternative partner where they are offering single apartments to the travellers for a short or long term basis. They are also a good investment for local people where they can get the finance quickly, and these apartments are coming with fully furnished no need to have many repairs. Once you setup the place, you can register on turnkey and star to make rentals for tourists and travellers.
You can start to display your home with a wide range of users all around the world. They have partnered with many travel companies; therefore, the booking for your apartment is not painful. Once you register, you can start making money as you wish. If you want to remove your property from the listing, you can request that the officials and the listing be removed within 60 days. The payments are put off a tax; therefore, a group or individuals can make bookings.
Clean and neat apartments
Easy for bookings
Easy to make rentals
Long or short term
No need to market
Damages will not include insurance by the company.
---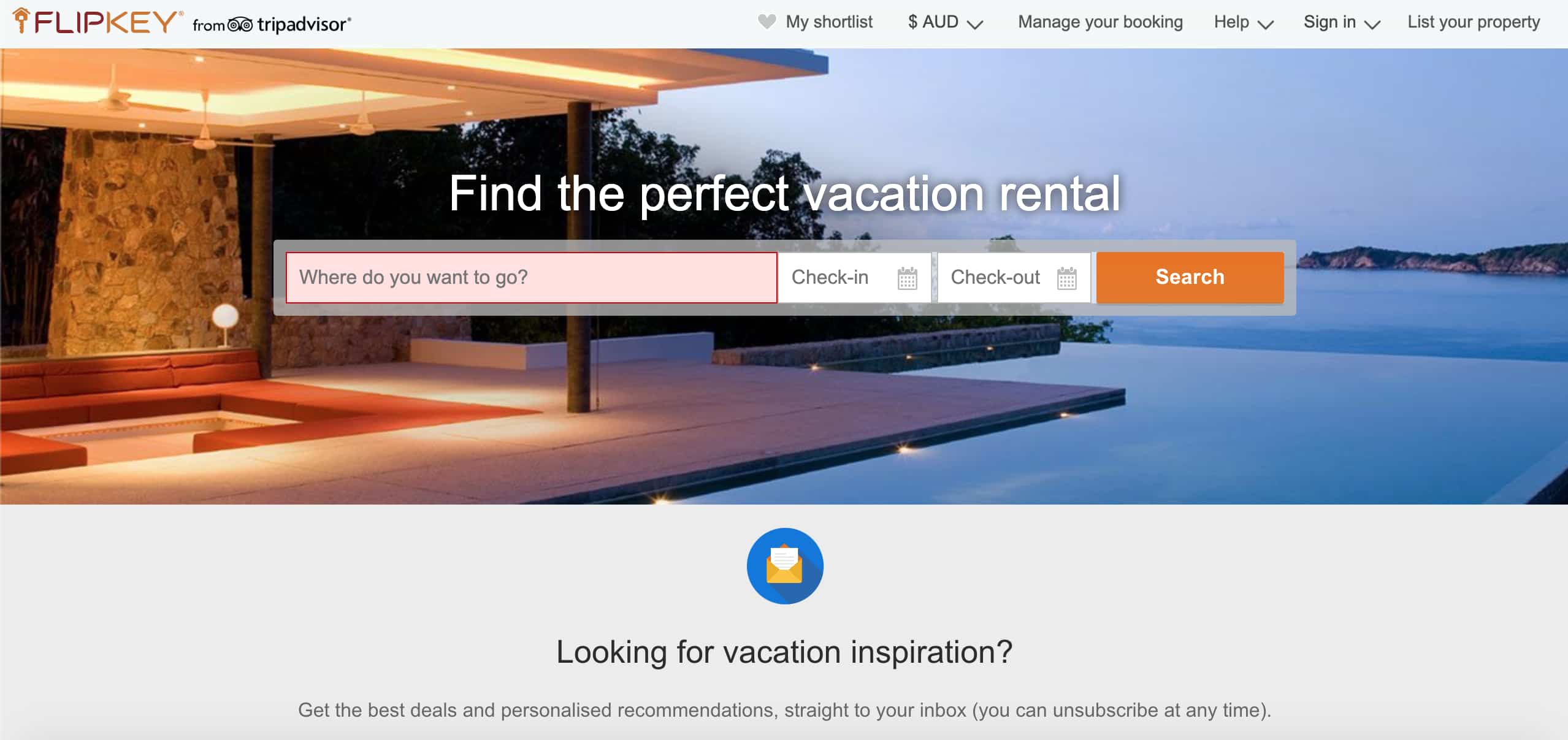 Yes, you may not have heard the name, but you will get comfortable when you come to know that it's a part of TripAdvisor. They don't offer you shared rooms, either book a full room or a whole property. Flipkey also has a great search feature where you can search for properties according to their choice. You get varieties like pet-friendly properties, waterfront properties, properties with a mountain view, and many more. For property owners, it's free to put a listing. Your listing will on almost every search engine. 
---
5) Homestay – Best Sites Like Airbnb for Long Term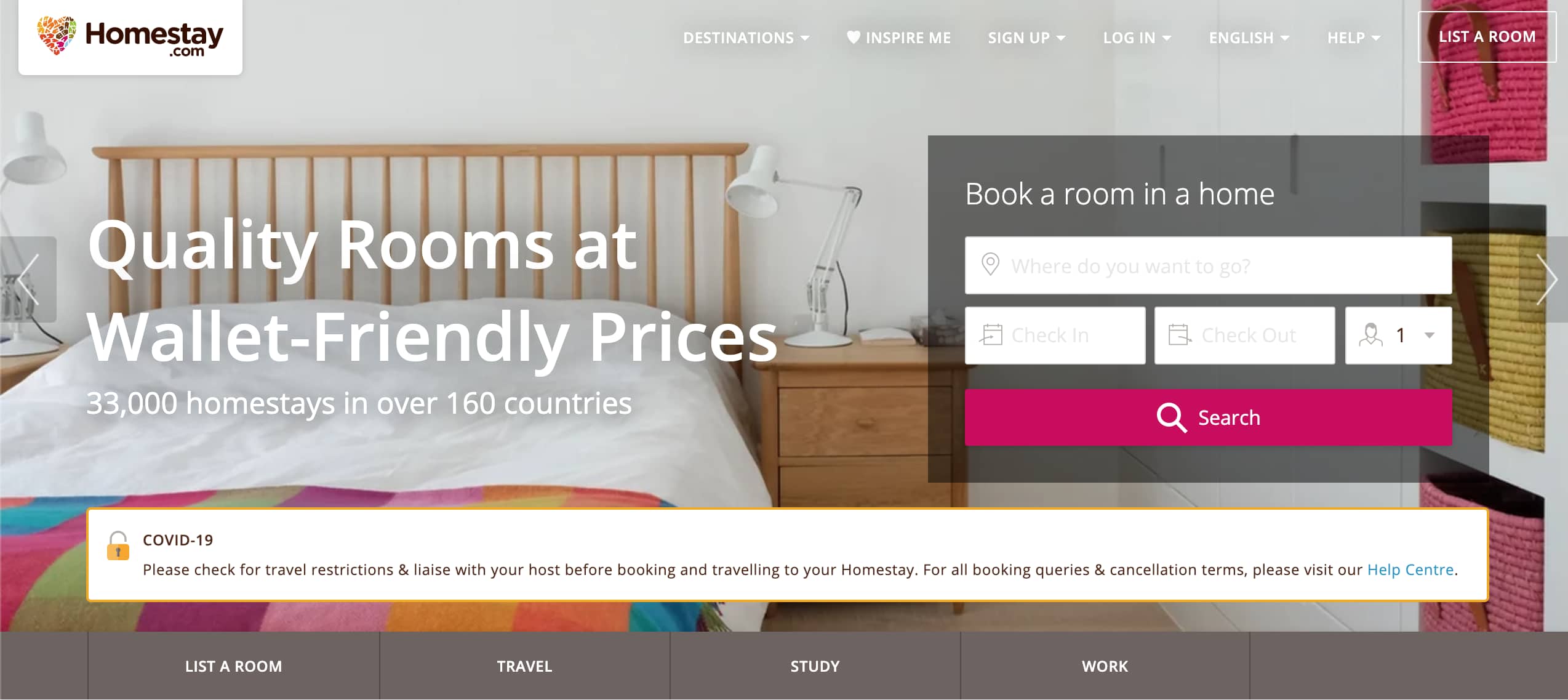 Whenever I want to go for a long vacation, I look for home rentals in Homestay. It has various options like filtering prices for months, check user ratings in the long term rentals.
Homestay is a global accommodation provider all around the world. It provides you with the real home experience where ever you go. Not only that. Their plans are affordable and suitable for everyone. They are operating in 100 plus countries, and 50,000 homestays are located all around the world. Their schemes are best for students, Retired parents, Business travels, Family travels, Couple travel, and for the girls who are staying away from home. It has many discounts and instant cashback offers for everyone who ever sign up with them. You can be a customer or a seller. If you have a spare room at your place, then this is an ideal platform to generate an extra income.
All you have to do is register with the homestay and post the room view for the user view. Once the customer likes the room, they will rent your apartment for the short or long term. Many tourists and students are waiting to rent the place for a long time, and business people are looking for accommodation for the short term—it all about making the customer comfort by giving a homey ambiance.
Affordable room and apartments
Suitable for everyone
Best service and food rather than hotels
Great experience while living abroad
Best experience to taste local home foods
Rooms may be small
Can't expect every facility from the homestay
---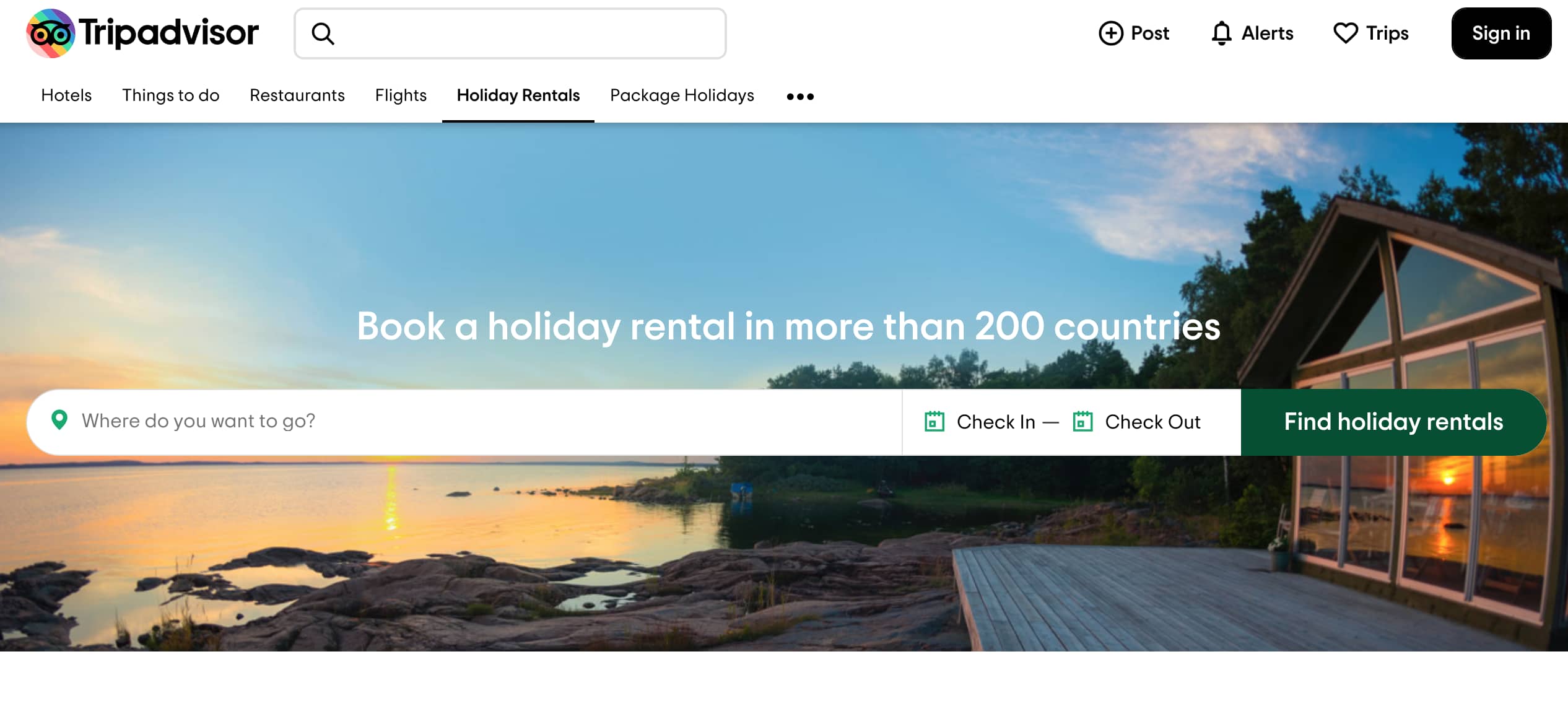 This is one of the most trusted sites like Airbnb. TripAdvisor Rentals is the main stage where a great many voyagers locate their ideal rental. Regardless of whether you're searching for a beautiful city loft, open a poolside estate, or comfortable lodge, we have the apartment for you, irrespective of your spending plan or where you need to be on the planet.
TripAdvisor Vacation Rentals' most significant bit of leeway against HomeAway and AirBnB, nonetheless, has just risen as of late, and it's called enormous information. Since TripAdvisor was established in 2000, the site has amassed a Google-Amazon-Esque goldmine of the shopper to put together audits and other data concerning explorers' propensities and inclinations, and socioeconomics. All of which they have at their computerized fingertips to improve their excursion rental stage's user and experience just as improve its combination with TripAdvisor's more extensive environment.
On the off chance that this select meeting with Ben Drew doesn't place a shudder in HomeAway's development plans and AirBnB's high-flying rave, they may need to go lease a "bubble house" from TripAdvisor in Costa Rica.TripAdvisor entered the matter of excursion rentals in 2008 with the procurement of FlipKey, a Boston-based organization.
We started posting excursion rentals straightforwardly on TripAdvisor in a matter of seconds a short time later, and we have developed rapidly from that point, both naturally and through further acquisitions. In 2010 we procured UK-based Holiday Lettings, trailed by the Spain-based Niumba in 2013 and the Massachusetts-based Vacation Home Rentals in 2014. We most as of late gained HouseTrip, a UK-based business, this past April. We've advanced from an altogether non-value-based and membership posting based business now to a full-administration booking stage.
A comprehensive collection of rental places
Ideal for everyone
Easy to make bookings
can make a booking before the arrival
Bit expensive than other platforms
---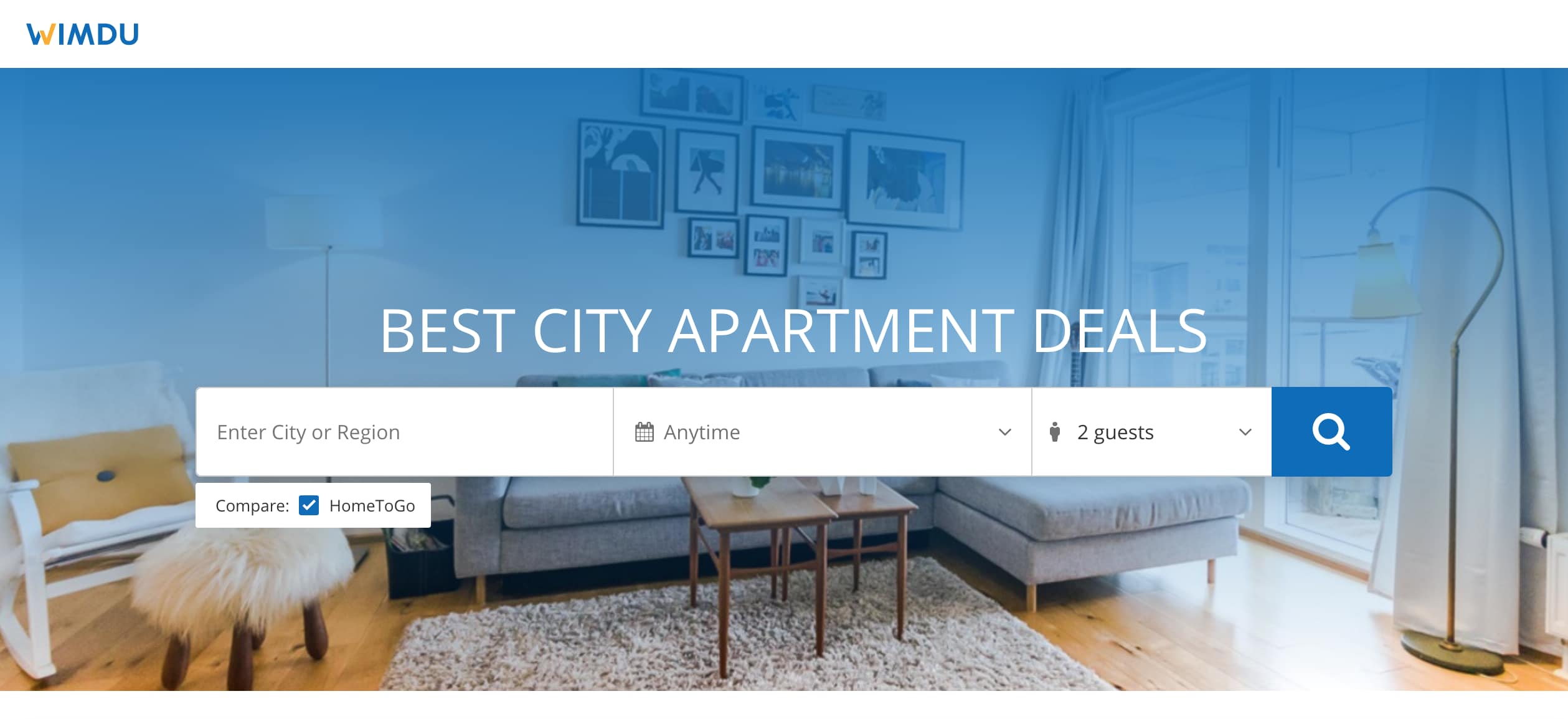 Wimdu is the largest online booking site which is located all over the world. You can find many locations and accommodations as per the budget request. They have a different type of apartments like a beach house, townhouse, and forest house for short and long term rentals. If you are looking for a strange experience while traveling, then this is the ideal place. They are connected with many locals who are renting apartments. It is also an excellent alternative for Airbnb. We accept enthusiastically in the intensity of movement and endeavor every day to make quality travel encounters increasingly available to everybody. Our immense determination of properties from around the world implies that you can locate a real and reasonable settlement in any place you go.
Whether you're searching for a city condo in Barcelona, open space in New York City, or seashore house in Miami, you're sure to find the ideal excursion rental on Wimdu!
Just sort in your goal, select your dates, and browse one of our quality excursion rentals worldwide.
Wimdu is an internet searcher and isn't the last contractual worker of the booking. Wimdu just works with trustworthy expert suppliers, doesn't charge any help expenses to its clients, and isn't straightforwardly associated with any rental or installment. Their payments are accurate and affordable for every traveler.
---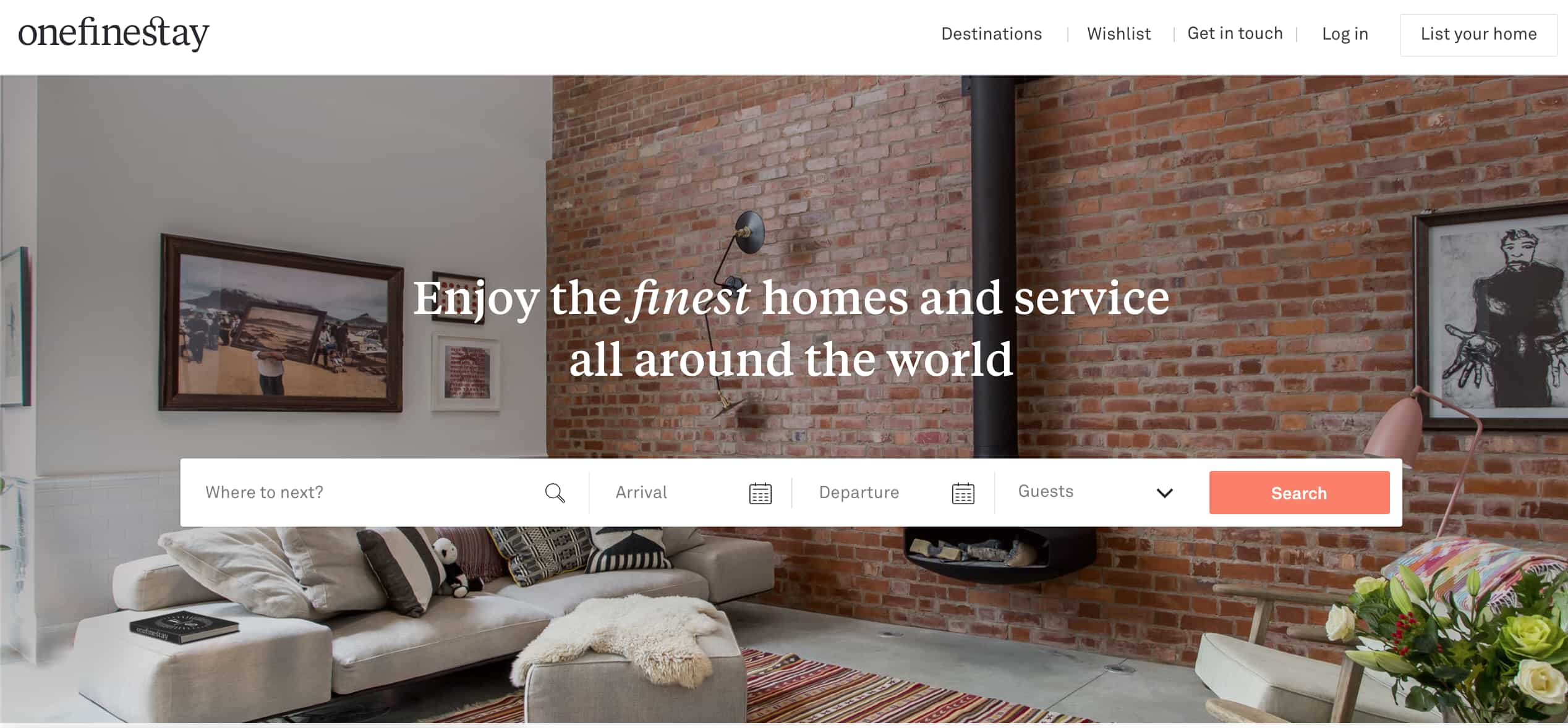 At onefinestay, we open ways to the best homes and villas in the most winning goals and convey a one-of-a-kind service to visitors, mortgage holders, and travel accomplices around the world. With each critical remain, we communicate a degree of individual service and proficient neighborliness unmatched in the private rental industry. Established in London in 2010, we are presently part of Accor, joining other extravagance brands, such as Fairmont and Raffles.
When you book with us, the whole experience is expertly figured out how to guarantee the most significant remain. Our guides help locate a delightful home that is directly for you, we can likewise include custom-made encounters when you book, and we're accessible every minute of every day for help.
We give significant serenity, accommodation, and adaptability to property holders, hoping to make the best use of their homes when they're away. With extraordinary tender loving care, we deal with everything from proficient photography, housekeeping, and in-stay upkeep to coping with all appointments, just as inviting and taking care of visitors during their remain.
---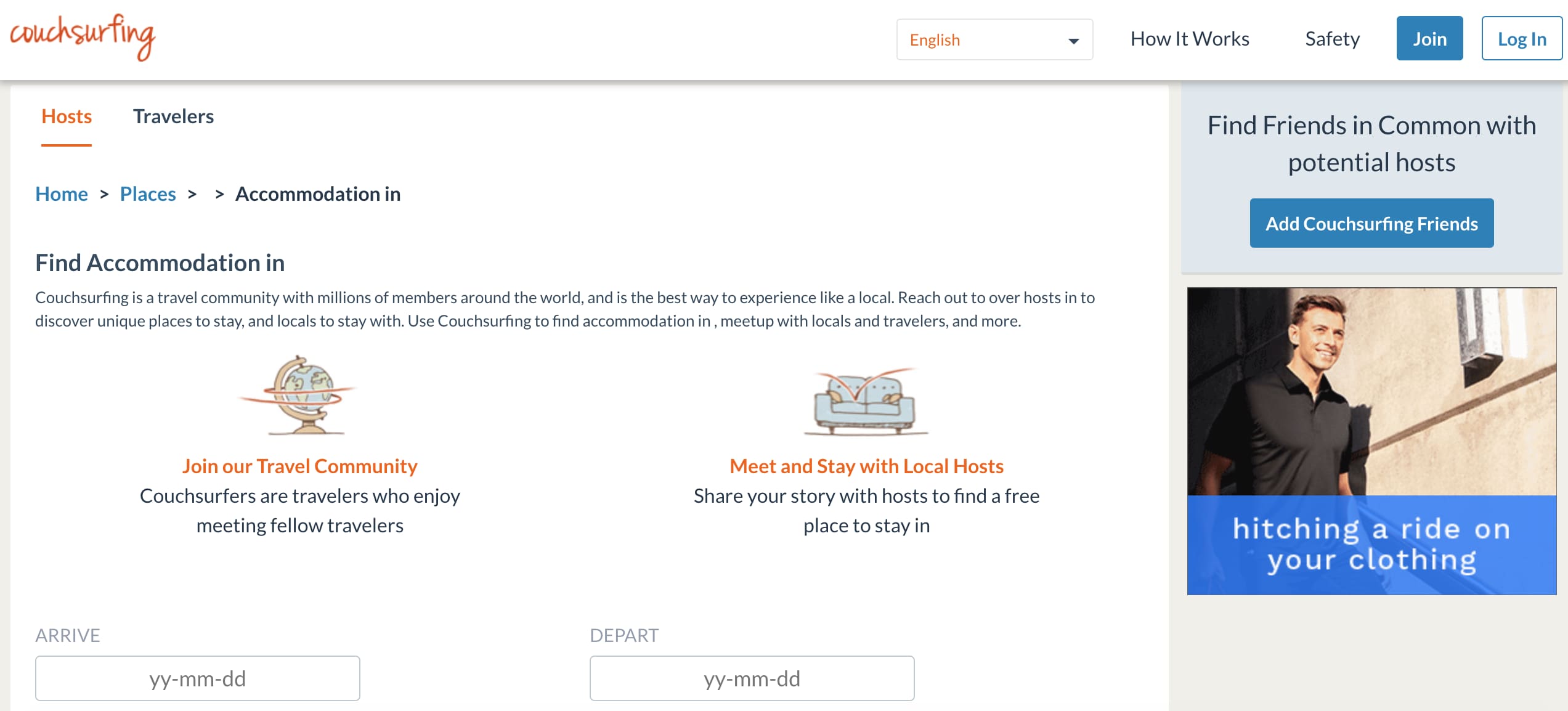 CouchSurfing is a worldwide homestay, and long-range informal communication administration opens employing a site and versatile application. Individuals can demand dwelling openly or legitimately from different individuals, "homestay" with various individuals, or join/make occasions. The stage is likewise utilized for easygoing dating; provocation is against the terms of administration.
Couchsurfing is also an enormous alternative for air hub for booking a room and stay while traveling. Initially, it's a non-profit organization, and the founder starts with providing the lowest plane tickets for students. While the business has expanded, they have begun to give homestay all around the world for an affordable rate.
It is a global travel partner sites like Airbnb for affordable rates. You can use this platform to find your stay or share your home to stay for travelers. All you have to do is create an account on their platform and get the app on your phone. Once you sign up, they used to suggest the best place for you to stay, or you can share your home for the people who are looking for the best stay during their travel. Once you signup, you can surf the town or world with the help of Couchsurfing. You can explore the events or stay easily without worrying about anything.
Wide collection f suggestions
Easy to earn extra money
Easy to rent the room
Budget apartments
Differs the price after booking
---
10) HomeAway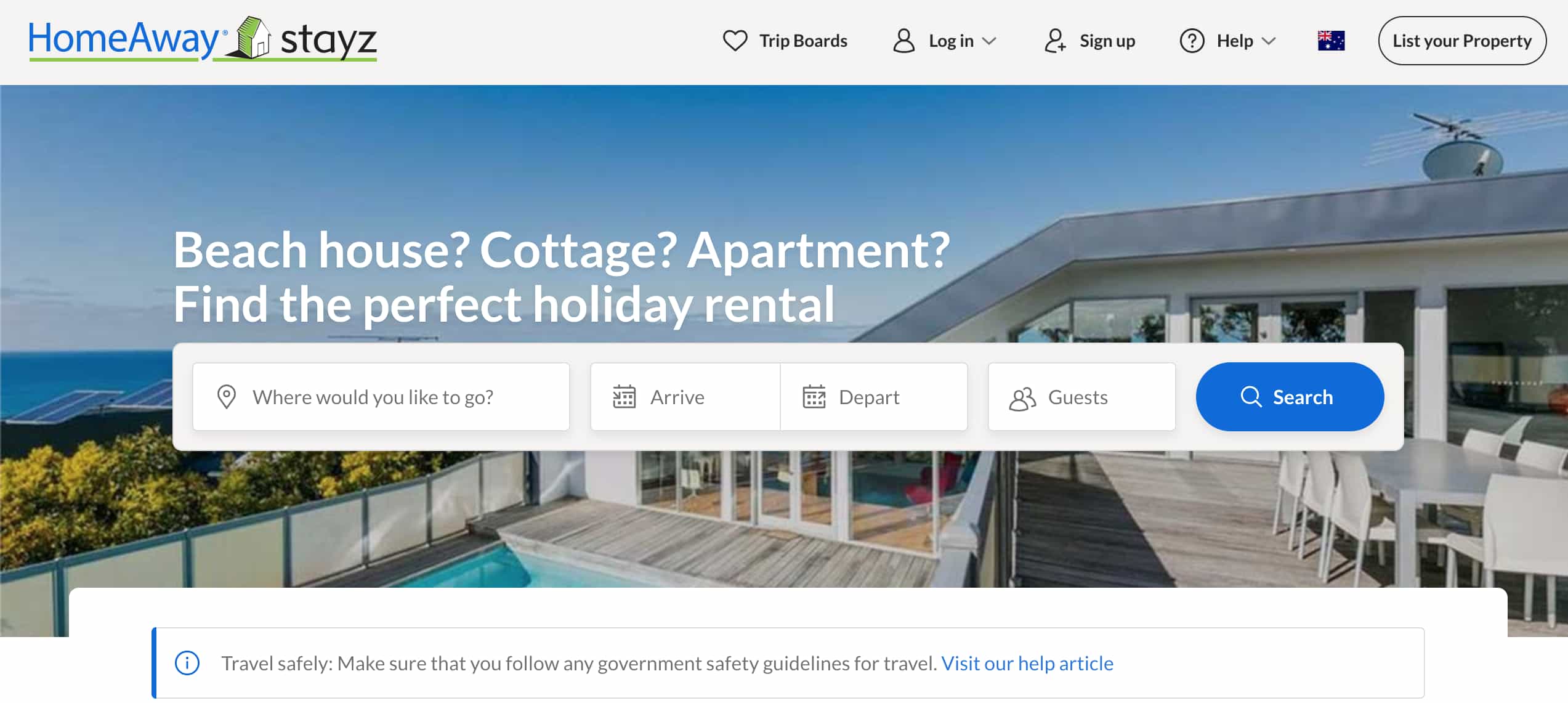 It is the parent company of Vrbo. So as you would have expected, there is a great deal of overlap on their listings. You will still find some differences, though, as HomeAway does have a bit more inventory on their site. They have notably smaller apartments. You get more choices if you're traveling alone or as a couple. Same as Vrbo, if you are a property owner, you get two options, i.e., either paying the fees on an annual basis or paying when you get a booking.
---
Sites Like Airbnb for Events
Some of you may be looking for places for events and sometimes it's really hard to find better places. So, I hope to add a few alternatives that worked really well for me. 
As you can see it has event locations such as Workshops, Video shoots, Photoshoots, etc.. There are more than 30 cities in both the United States and Europe. 
This site also has many options to try for events and meetings. If you are in the United States then you should try this site to find your next event booking. It's easy to use and very reliable.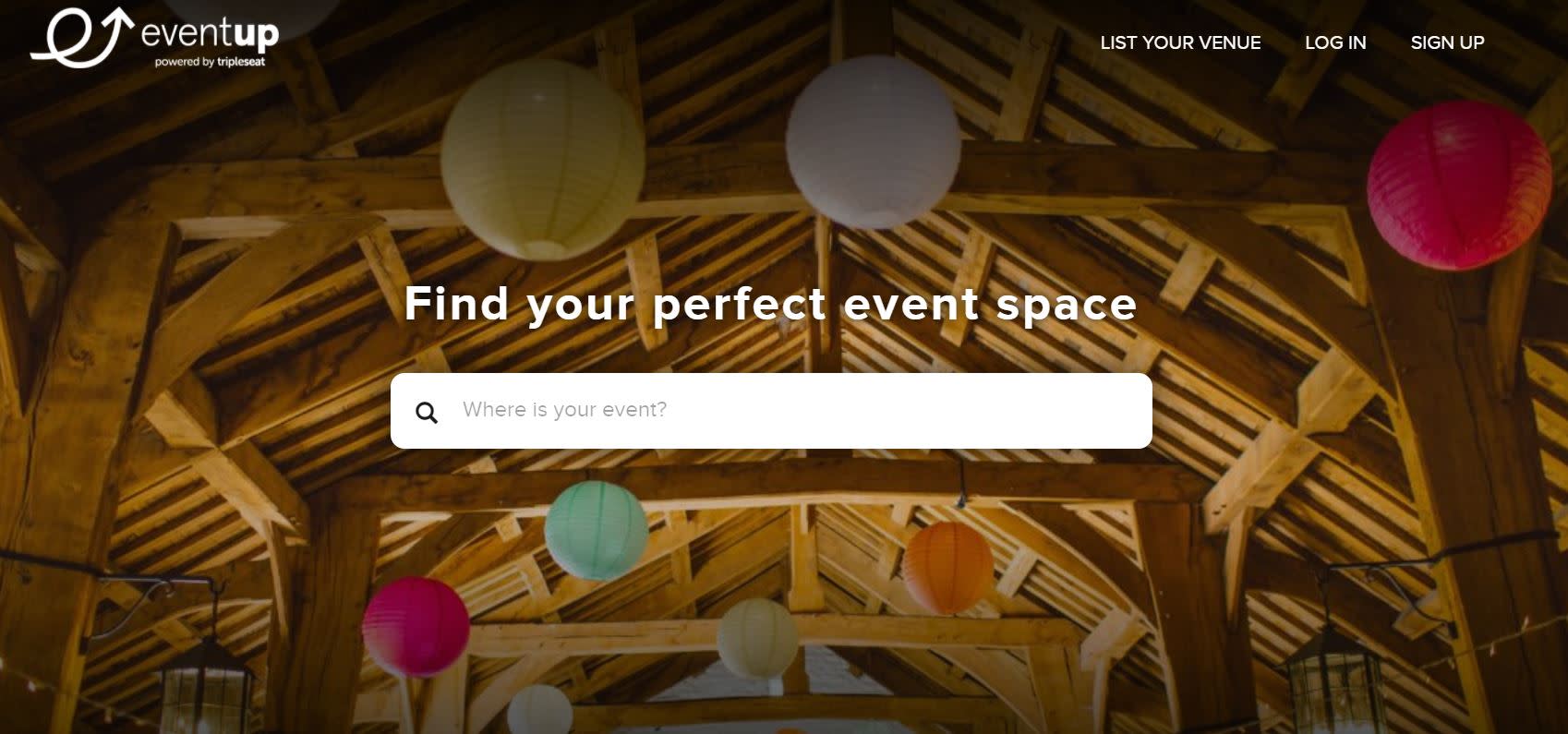 Is there anything cheaper than Airbnb?
If you are looking for accommodations then Vrbo and HomeAway have cheaper options than Airbnb. In the last summer, I was looking for a house in Autin, but all cheaper options were gone in Airbnb. So, I checked in HomeAway for similar options, and I was amazed by the houses I could find.
So these are some of the best sites like Airbnb. I hope you have an excellent trip ahead.
---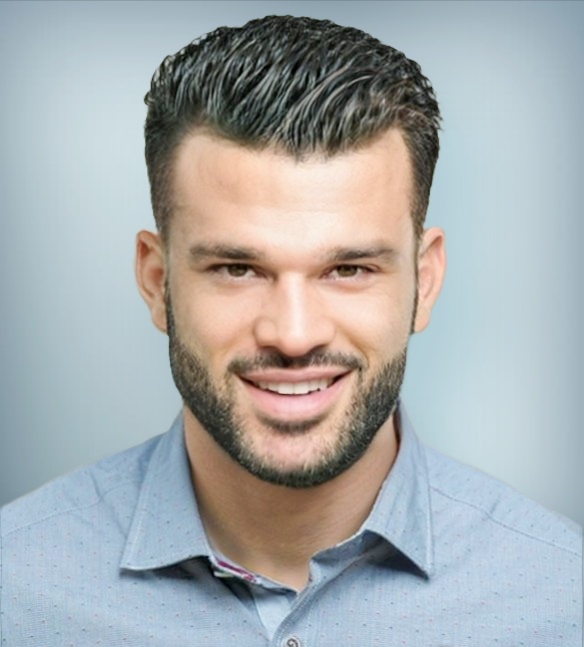 I'm Jhon Max from Nevada, USA. I'm graduated as a computer engineer and I have more than 10 years of experience in app developing, web developing and software developing.
I welcome you to my site, Archies of Tech. The main objective of our website is to provide you with information on apps, games, software, which are similar to some of the popular applications available out there.